Last May, Sam and I went on a trip to Gansu and Qinghai provinces to visit the sites along a medieval pilgrimage route. (On this trip, see Sam's entry on his blog: Amdo Notes II.) I got to Lanzhou first and I had a day to wander around the city and in a small shop I noticed a sign that said 谢绝还价 (No bargaining!). What caught my attention is that the character 謝 was written in a variant form, with a 又 on the right side, instead of the usual 寸 (see Image 2). I have not seen this form before and was interested whether this was a local way of writing it or one of the common vulgar forms. So I asked the shop keeper about the character but he had no doubts that this was the normal way of writing the character 謝. I also insisted that the standard form was different and finally he went over to the shop next to his to ask how it was written. There he had a small realization and after thinking for a few more seconds, said, "Then I wrote it wrong."
I tried to stick to my initial aim to determine where this form comes from. Yet the man was now adamant that this was not a variant form but that he simply made a mistake writing the character. So I did not get anywhere with my inquiries and had to leave it at that. But I remained convinced that this was not simply a mistake but a vulgar form that might have some local tradition. So when I got home, I tried to track down this particular variant and to my surprise could not find it. The closest I came to it was a form in the Longkan shoujing 龍龕手鏡 which was written with a 夊 on the right side (see Image 3). This was close but not identical.
Now I am still convinced that this is not a solitary mistake but that a form that is occasionally used and possibly goes back centuries. After all, this is the Hexi corridor where the Dunhuang manuscripts come from. So I am most interested if anyone else has come across this variant. Or other examples of seemingly unattested variants.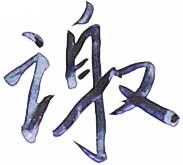 Image 2. Variant form of the character 謝 (cropped from above shop sign)
Image 3. Variant form of 謝 in the
Longkan shoujing